The Young Adult Ministry at North Metro is for anyone who is looking for a place to belong in Community with other believers in Jesus.
We strive to equip single 18 to 27 year olds to reach the lost and fulfill the Great Commission. Regardless of where you are in your faith, we are passionate to see Young Adults continually grow into the leaders God has called each and every one of us to be. When you walk into our Young Adult building you will find out that it is a warm and inviting environment that makes it easy to make new friends while connecting to the church body.
The Vine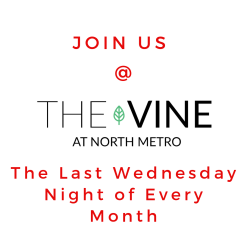 During the school semester, we have a monthly fellowship and worship gathering on the last Wednesday night of each month. We enjoy fellowship and community with one another by sitting down to a meal beginning at 6:30. We will then transition into a time of worship through song, led by our praise and worship team beginning at 7:10, and concluding our worship with time spent studying God's Word together. If you are looking for a place to fellowship with the body of Christ and worship Jesus as our Savior and Lord, this is the place to be! We hope to see you at The Vine.
Ladies Wednesday Night Bible Study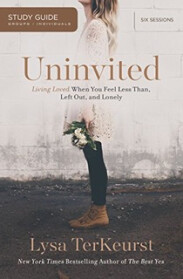 "In this six-session video Bible study (DVD/digital video sold separately), Lysa TerKeurst digs deep into God's Word to help you explore the roots of rejection, the way other relationships get tainted because of a past rejection, and the truth about what it looks like to live loved. With biblical depth, gut-honest vulnerability, and refreshing wit, Lysa will take you on a visual journey in the Holy Land to some of the places where people of the Bible such as Hannah, David, and even Jesus lived and walked. Lysa will help you and your group to enter a place of healing and new perspective, as well as a time for you to go to new places with Jesus and experience him like never before. Uninvited reminds us we are destined for a love that can never be diminished, tarnished, shaken, or taken—a love that does not reject or uninvite.
Join our ladies beginning January 23rd and commit to this six week journey through "Uninvited".
Men's Wednesday Night Bible Study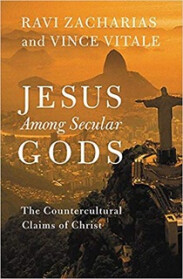 Ravi Zacharias and Vince Vitale defend the absolute claims of Christ against modern belief in the "secular gods" of atheism, scientism, relativism, and more. The rise of these secular gods presents the most serious challenge to the absolute claims of Christ since the founding of Christianity itself. The Christian worldview has not only been devalued and dismissed by modern culture, but its believers are openly ridiculed as irrelevant. In JESUS AMONG SECULAR GODS, Ravi Zacharias and Vince Vitale challenge the popular "isms" of the day, skillfully pointing out the fallacies in their claims and presenting compelling evidence for revealed absolute truth as found in Jesus. This book is fresh, insightful, and important, and faces head on today''s most urgent challenges to Christian faith. It will help seekers to explore the claims of Christ and will provide Christians with the knowledge to articulate why they believe that Jesus stands tall above all other gods.
Join our men beginning January 23rd as we continue learning how to defend our faith against the growing challenges of our culture.
Life Groups
Every Sunday morning at 9:15am – 10:10am. We believe that everyone is created to have and build relationships with other people. Being in Life Group helps you engage with other people that are just like you. We meet in Building D and we have several classes for you to choose from.