The Young Adult Ministry at North Metro is for anyone who is looking for a place to belong in Community with other believers in Jesus.
We strive to equip single 18 to 27 year olds to reach the lost and fulfill the Great Commission. Regardless of where you are in your faith, we are passionate to see Young Adults continually grow into the leaders God has called each and every one of us to be. When you walk into our Young Adult building you will find out that it is a warm and inviting environment that makes it easy to make new friends while connecting to the church body.
The Vine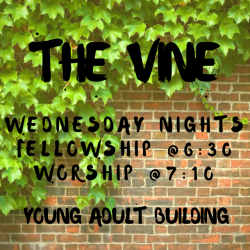 Beginning May 30, The Vine will be our weekly gathering of College students and Young Professionals throughout the summer who are seeking to fellowship and worship together. We will enjoy fellowship and conversation with one another by sitting down for a meal together beginning at 6:30 each Wednesday night. We will then transition into a time of worship through song, lead by our praise and worship team beginning at 7:10, and concluding our worship with time spent studying God through His Word. If you are looking for a place to fellowship with the body of Christ and worship Jesus as our Savior and Lord, this is the place to be! See you Wednesday nights at 6:30; you belong here!
Life Groups
Every Sunday morning at 9:15am – 10:10am. We believe that everyone is created to have and build relationships with other people. Being in Life Group helps you engage with other people that are just like you. We meet in Building D and we have several classes for you to choose from.