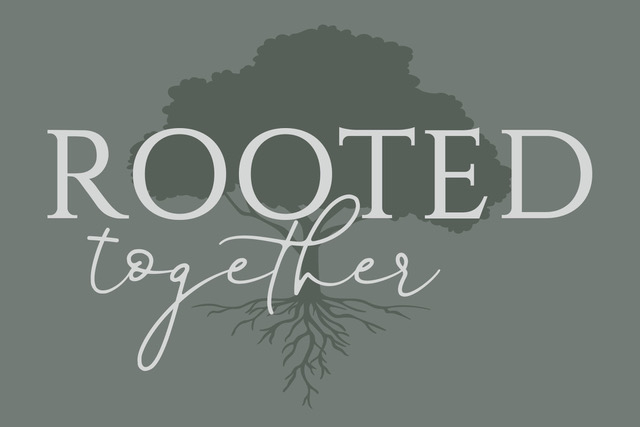 Ladies, life is busy. Do you ever wonder how it's possible to make new connections and friendships with other ladies when you're so busy? According to Colossians 2:7, it's essential for us to be Rooted Together in our faith. We believe no matter what your schedule or season looks like, it's important to make that happen - to pause, break bread and fellowship with others in order to develop togetherness.

With that, we've introduced a brand new Radiant women's event - Rooted Together! The purpose of these small group style events is to create an opportunity for women to meet beyond the casual "hello", get to know one another better, and become more rooted together in our faith and friendship. These events are open to all women, both North Metro members and guests, age 18 and above.
In response to COVID-19, we have had to change the logistics of this event a bit. However, we know that now, possibly more than ever, we need to CONNECT and be TOGETHER (even if we have to get a little creative)!
So, here's the latest info and how to be part of Rooted Together!
What will Rooted Together look like now?
Well, actually very similar to what was originally planned! Upon registration, our team will work to assign you to a host home that's close to your proximity as possible (based on school district). Each group will be no more than 6 ladies, and will meet from 6:30-8:00pm.
Here's what we're going to do a little differently: These groups will meet outside in the host's driveway using social distancing guidelines. Each attendee will bring their own chair, dinner and/or snack, and the host will provide paper products, hand sanitizer, and ensure a safe outdoor environment for the gathering. If weather prohibits from meeting outdoors, the Rooted Together team will select another day and notify all attendees in advance.
What are the NEW dates?
Tuesday, September 29 (registration deadline September 22)
Tuesday, October 27 (registration deadline October 20)
You can come to one or both events. It's completely up to you!
We know many things have changed since our event kick-off in January, but we hope you are even more excited to connect again! We know we are!
For more information on this event, please follow us on Facebook and Instagram.