Radiant Bible Study is a great place for women of all ages to meet together weekly and grow in their relationship with Christ through Bible Study and fellowship.
If you have questions or would like any further information feel free to contact us at or 678-405-5047.
Thursday Morning Bible Study:: 9:15am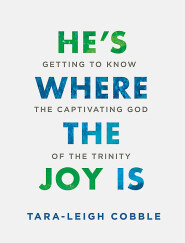 He's Where the Joy Is by Tara-Leigh Cobble
Join Tara-Leigh Cobble in this 7-session study as she breaks down the intimidating doctrine of the Trinity. You'll discover a beautiful, foundational view of our Triune God that will transform how you relate to Him. Understanding God's three-in-oneness and each of the Persons of God individually—Father, Son, and Spirit—will lead you to deeper intimacy with God and greater joy in knowing Him!
Amos is promoting the God life, and, the God life is the good life!
Dates: August 10 - September 21
When you Pray
Do you have trouble thinking of words to say to God when you pray? Are you afraid some emotions are too intense to express to God? Do you reach the end of a day only to realize you haven't prayed at all? You're not alone. Prayer is the way we relate to God, but sometimes it's a struggle. Throughout God's Word, we encounter many voices who teach us how to pray.
Join six beloved Bible study teachers in this 7-session study and learn that God welcomes your praise and lament, your thanksgiving and intercession. You'll see examples of how to pray when you're alone and when you're gathered with others. Above all, you'll notice there's no one right way to pray.
Dates: September 28 - November 9